A link to the BCHS entry in the US News list of best High Schools in the US can be found Here.
Watch the WMHT TV video "Our Town: Bethlehem"

"Situated on the west bank of the Hudson river, the town of Bethlehem, NY borders Albany and is comprised of several hamlets, including Delmar, Slingerlands, Elsmere, Glenmont and Selkirk. WMHT interviewed Bethlehem residents at the historic Adams House on aspects of the town, ranging from Henry Hudson Park to the Bethlehem Senior Chorus, the Jericho Drive-In to the scenic rail trail and much more." Originally broadcast March 3, 2011.

Click Here to view. The video is 1 hour and 23 minutes in length and a DVD copy can be purchased by clicking "Details" above the video window.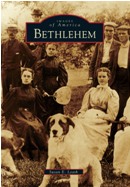 Click on the Thumbnail above to link to the publisher's website. The Book is also available from the Town Clerk's Office for $21.99 or Amazon.com Here.